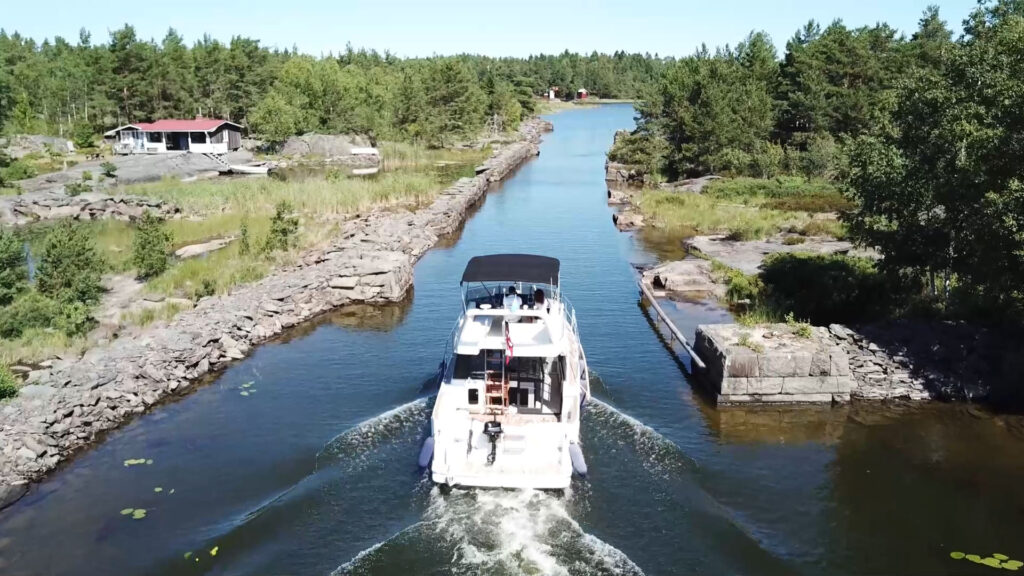 Dalsland Canal described as the most beautiful waterway in Europe.
The video but shows the channel from start to finish, through the most beautiful landscapes imaginable. Through locks and small waterways with waterfalls next door and so far up in Sweden that you have to operate and open road bridges yourself.
The boat shown has a width of 3.75 meters. Max beam I have sailed with is 4 meters.
Sometimes it looks narrow on the video, but it cheats a little.
It is not a problem to sail on the canal with a beam of up to 3.80 meters.
The Dalsland canal consists of a string of large and small lakes, coves, fjords and bi-links that are bound together by about 12 km of dug / exploded canal. The total length of the lake system is about 250 km and extends from the western side of Lake Vänern, passing up through the Dalsland landscape, further into the Värmland landscape, up to the Norwegian border and into Norway.
In the lake system there are 31 locks distributed at 17 lock stations. The fall height is a total of 66 meters. The canal is considered one of the most beautiful waterways in Europe!
The idea of connecting the inner of Dalsland and southern Värmland with Lake Vänern and the West Coast through a canal was born during the 18th century. At the beginning of the 19th century, these plans took a stronger form and after a long decision-making process, work on the canal began in 1865. The renowned railway builder Nils Ericson was appointed as responsible for the construction work.
The work progressed faster than expected and already in 1866 the canal was completed. The canal was inaugurated on September 19, the emergency year 1868.
The finished canal became a communication route where several lakes were connected by short dug or broken canal paths provided with locks. From Lake Vänern it was now possible to continue at Köpmannebro into the country, past Dals Långed and Bengtsfors to Gustavsfors and further up Värmland to Årjäng or via Lennartsfors to Töcksfors or Dals Ed.
The purpose of the canal was to serve as a transport route for the many iron mills in Dalsland and southwest Värmland. However, the canal did not come to play a crucial role in this business. Due to market changes, ia. Due to increased competition from England, most of the ironworks were closed down in the late 1800s. However, it gained significance and sometimes became directly decisive for the location of the compensation industry, especially the wood and sawmill industry, which took over after the iron mills.
In addition to being a transport route of goods, the canal also gained importance for mail transport up to the beginning of the 20th century. Housing segregation also experienced a boost after the channel's inception. The heyday of the canal fell from 1868 to about 1895, after which the freight of goods decreased dramatically. The reason for this was increased competition through the expansion of the rail and road networks. Sometimes the journey is more important than the destination.
The undiscovered, exciting and fresh holiday destinations become, as you may notice, fewer and fewer. It is especially difficult to find those that interest the whole family.
One of these rare strawberry spots is located in Dalsland-Nordmarken – Sweden's sunniest area. There, one of Europe's most beautiful waterways – the Dalsland Canal – ties together a maze of large and small lakes, rivers and idyllic, meandering canal stumps to a boat and canoe sport area whose counterpart you can look for a long time. Only a mile is the dug or blasted canal.
The rest is a 24-mile sailable lake system. Welcome! Dimensions, depth and speed – and more The Dalsland Canal lake system stretches from Köpmannebro, on Lake Vänern, to its northernmost point at Östervallskog. To the west, we cross the Norwegian border into the old transshipment station, Ottied. Following the Trollhätte Canal, you can easily navigate to the southernmost tip of Lake Vänern before continuing towards Köpmannebro and the Dalsland Canal lake system. And if you want to go around, you can continue to Nössemark, on Lake Stora Le, from where you can transport your boat by trailer over to Halden and Västerhavet.
Many choose to take this classic route, which we call the "Tour of Western Sweden".
Max length of vessel:
22.75 m Max width: 4.05 m Max depth: 1.8 m
Vertical clearance:
Vänern – Lennartsfors 17 m Lennartsfors-Töcksfors 15 m Lennartsfors-Ed stretch 14.5 m Vänern-Fröskog stretch 14 m Vänern-Gustavsfors (downstream lock) 17 m Upstream Gustavsfors 11.75 m.
Note: Östra Silen at Högbergsholmen (towards Harnäsfjorden / Signebyn) 11.0 m Lennartsfors-Holmerudsfors 17 m (A power line that limited air draft to 10.5 m has been replaced by a sea cable). Length: 253 km Highest point above sea level (Stora Le): 102 m.

Kilde: Dalsland Canal Sweden.

Video copyright: Dansk Yacht Import / Jan Wulff Møller