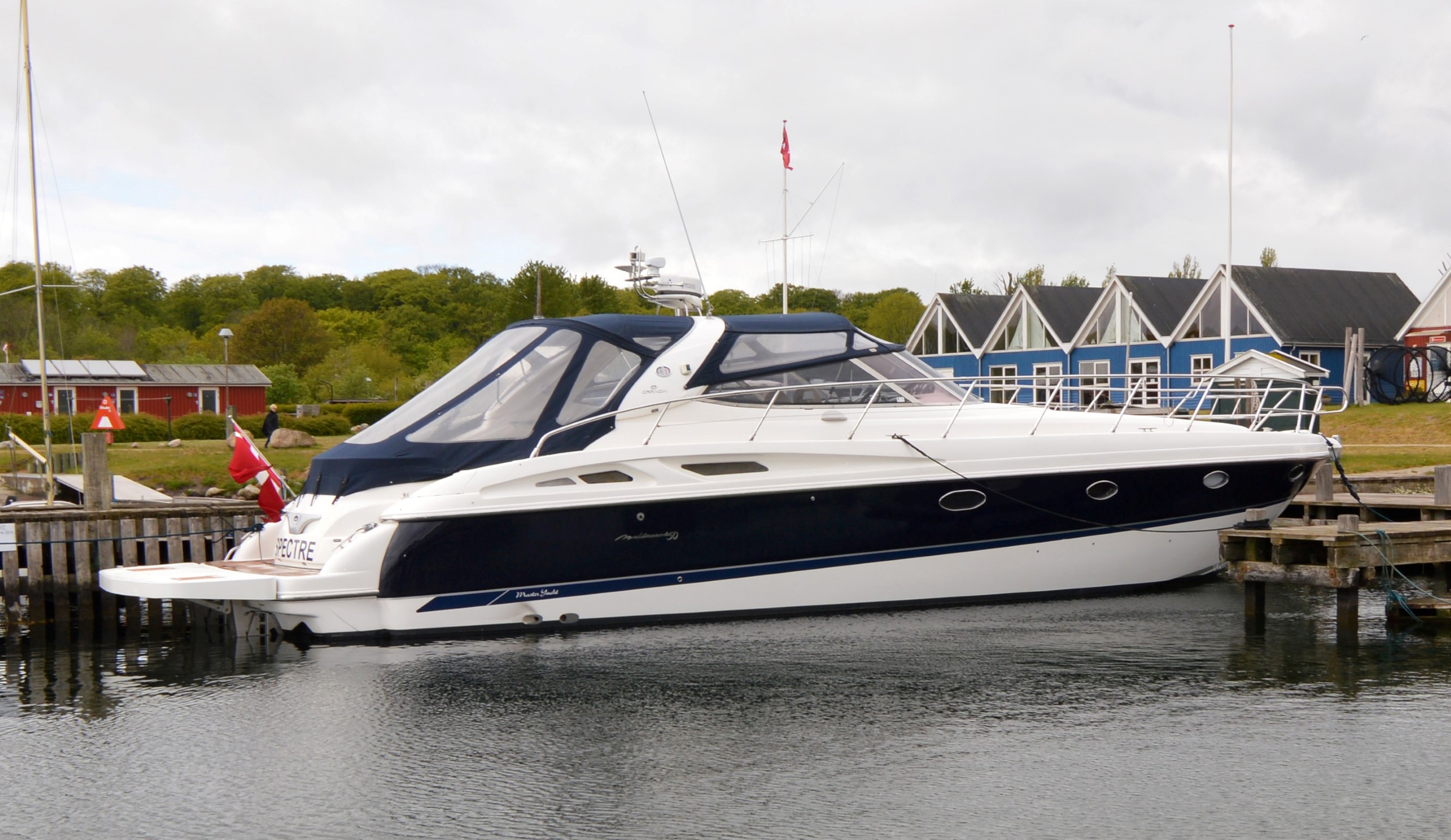 Model: Cranchi 50 Mediterranee
Pris: Kr. 1.785.000
Årgang: 2005
Beliggenhed: Sjælland, Danmark
Motor: 2x715 hk diesel

Mål: L:14,99 m B: 4,36 m D: 1,05 m
Vægt: 16600 kg.
Tankkapacitet: 2000 liter diesel. 500 liter vand.
Sovepladser: 6 i 3 kahytter
Motortimer: ca. 760 timer

Cranchi 50 Mediteranee Softtop
3 kahytters version.
MOTOR: Volvo D12 EDC 2 x 715 hk diesel med aksler. 770 sejltimer. Cruising fart 27 knob. Topfart 34 knob.
NAVIGATION: Ny Garmin 7412 ESV Gps navigator med 12 tommer kortplotter i farve og XD radar 2017 og med 2 stk. video kamera i motorrum, Raymarin autopilot, Raymarin Tri Data, (ekkolod, fartmåler, vandtemp) Raymarin Vhf radio, kompas, tiltrat.
ELEKTRISK UDSTYR: Landstrøm, automatisk batterilader, 2 stk. nye GEL forbrugs batterier (24 volt), Fisher Panda 7 kw generator i soundboks og med separat kølevand og udstødning og med under 100 timer, elektriske gear/gas håndtag, bovpropel, elektrisk ankerspil med tæller på kæde samt fjernbetjening, elektrisk søgelys, 6 stk. danske 230 volt udtag i cockpit, elektriske spil til agterfortøjninger, led lys med lys dæmpning, 3 stk. undervandslys, elektrisk tømning af holdingtank, 2 stk. elektriske trykvandspumper til ferskvand, 40 liters varmtvands beholder med elektrisk opvarmning samt opvarmning fra motor.
RADIO & TV: 4 stk. stereo anlæg med højtalere i alle rum samt med forstærker og subwoofer i cockpit, fladskærms tv med speciel ophæng i cockpit og udvendig antenne.
VARME: Webasto 5,5 kw termostatstyret dieselvarmer justerbar fra cockpit samt salon nyt 2017. 36000 btu klima anlæg med aircon samt varme i samtlige rum.
PANTRY: Køleskab med frys, kombiovn, 2 zoners keramisk kogeplade, ekstra køleskab i cockpit, wetbar med grill i cockpit samt indbygget ismaskine.
EKSTRA: Teakdæk overalt i cockpit, nye hynder og sæder i Silvertex i cockpit 2017 (som nyt i dag), ligeledes med stor solseng agter i Silvertex samt stor solmadras til fordæk, ny 2015 heldækkende kaleche delt ved targa bøjle som sidder snorlige og er som ny (værdi SEK. Kr. 50.000) nyt Fibertex fuld vintercover specielsyet (Kr. 32.000) ny 2019 heavy duty hydraulisk badeplatform som løfter 600 kg fra tyske H&B Technic der måler 300 cm x 120 cm, (pris Kr. 250.000), med sin store garage med hydraulisk åbning og elektrisk spil som kan indeholde en 3,50 meter RIB med motor kan båden samtidig have eksempel en stor vandscooter med på sin hydrauliske badeplatform, nyt massivt teak på eksisterende badeplatform 2019, hele bådens blå fribord er professionelt nymalet, koldt og varmt trykvands bruser på agterdæk, Hydraulisk landgangs bro i kassette fra Besenzoni med fjernbetjening og ledlys, 2 stk. vacuum toiletter, alle senge i de 3 kahytter har latex skum madrasser, værdiboks indbygget i master cabin med kodelås, 2 stk. rustfri brændstof tanke på ialt 2000 liter, 500 liters vandtank.
INDRETNING: Rigtigt stort cockpit med stor dobbelt solseng over garage, nem og bred adgang fra badeplatform, stor u-sofa med bord, wetbar med køleskab, ismaskine grill samt håndvask, enkeltsæde og 2 separate stole samt 4 dobbelt styreplads, nedgang til salon med u-sofa samt pantry, forkahyt med dobbeltseng og eget toilet med separat brus, separeret fra forkahytten er agter 2 gæste kahytter, den ene med dobbeltseng og den anden med 2 enkeltsenge, fælles badeværelse med separat brus. Overalt i båden er der mange skabe og god stuveplads.
Bemærk de brede sidedæk og at det er særdeles nemt at færdes på båden selv med kaleche på grundet et virkeligt gennemtænkt design, således at adgang fra fronten til agterdæk samt badeplatform sker uhindret.
STAND: Denne båd er virkelig i særdeles god stand og bærer tydelig præg af at have været passet altid. Bygget som udstillings båd til London Boatshow i 2005 og overtaget af første ejer i England. Anden ejer er nuværende Danske ejer som har haft båden i 6 år. Båden er virkelig velbygget og solid samt særdeles velsejlende, også i hård sø.
Båden sejler ved 750 omdr 8,5 knob og med et forbrug på 10 liter i timen per motor, ved 2000 omdr sejler den 27 knob og med 2300 omdr sejler den 34 knob.
Båden er CE godkendt med et total længdemål på 14,99 meter. totalmål med hydraulisk badeplatform er 16,50 meter. Sidstnævnte mål medregnes ikke ved bådens totalmål.
Ovenstående oplysninger forventes at være korrekte, men kan ikke garanteres.
© Foto af Jan Wulff Møller
Alle fotos er beskyttet af loven om ophavsret og må kun benyttes efter skriftlig tilladelse